𝐏𝐏𝐁 𝐚𝐧𝐝 𝐊𝐄𝐁𝐒 𝐂𝐨𝐥𝐥𝐚𝐛𝐨𝐫𝐚𝐭𝐞 𝐭𝐨 𝐄𝐧𝐡𝐚𝐧𝐜𝐞 𝐂𝐨𝐬𝐦𝐞𝐭𝐢𝐜 𝐑𝐞𝐠𝐮𝐥𝐚𝐭𝐢𝐨𝐧 𝐅𝐫𝐚𝐦𝐞𝐰𝐨𝐫𝐤- 9th October 2023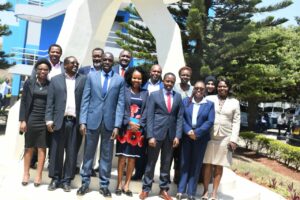 Nairobi, Kenya  – The Pharmacy and Poisons Board (PPB) and the Kenya Bureau of Standards (KEBS) convened at KEBS' offices to strengthen the Cosmetic Regulation Framework.
The purpose of this meeting was to thoroughly review the existing framework, considering recent adjustments to the East African Community (EAC) standards for cosmetics.
 Leading the team was Dr. Ahmed Mohammed, representing PPB CEO Dr. F. Siyoi, while Mrs. Esther Ngari, the Acting Managing Director of KEBS, led the KEBS team.
This collaborative effort underscores their commitment to ensuring that cosmetic products meet the highest safety and quality standards in Kenya.