𝐏𝐡𝐚𝐫𝐦𝐚𝐜𝐲 𝐚𝐧𝐝 𝐏𝐨𝐢𝐬𝐨𝐧𝐬 𝐁𝐨𝐚𝐫𝐝 𝐂𝐄𝐎 𝐉𝐨𝐢𝐧𝐬 𝐌𝐞𝐞𝐭𝐢𝐧𝐠 𝐭𝐨 𝐁𝐨𝐨𝐬𝐭 𝐋𝐨𝐜𝐚𝐥 𝐇𝐞𝐚𝐥𝐭𝐡 𝐏𝐫𝐨𝐝𝐮𝐜𝐭𝐬 𝐟𝐨𝐫 𝐔𝐇𝐂 – 9th October 2023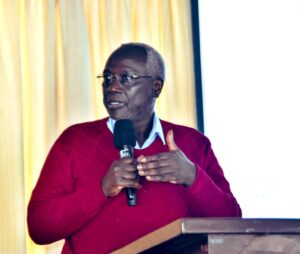 Nairobi, Kenya –  Dr. F.M. Siyoi, the Chief Executive Officer of the Pharmacy and Poisons Board, participated in a consultative meeting on Monday 9th October 2023 alongside local manufacturers of Health Products and Technologies convened by Mr. Harry Kimtai, Principal Secretary for the State Department of Medical Services.
This meeting was a crucial step in preparing for an upcoming two-day exhibition that aims to showcase locally manufactured health products and technologies. The goal is to emphasize their vital role in advancing Universal Health Coverage (UHC).
Dr. Siyoi emphasized that promoting local manufacturing not only guarantees availability and affordability but also strengthens the country's resilience against unforeseen emergencies and global disruptions.
Under the Bottom-Up Economic Transformation Agenda (BETA), the PS reaffirmed the government's unwavering commitment to promoting investment and growth in local health product manufacturing.
This strategic initiative aims to ensure commodity security, directly contributing to the realization of UHC. Furthermore, local manufacturing has the potential to enhance health outcomes, stimulate economic development through job creation, and bolster Kenya's competitiveness both regionally and globally.