Pharmacy Board shuts down 40 pharmacies in regulatory crackdown
Pharmacy Board shuts down 40 pharmacies in regulatory crackdown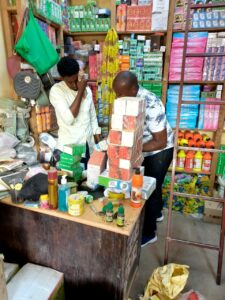 North Eastern – A total of 40 persons have so far been arrested and booked for prosecution in various courts within North Eastern Kenya and Nairobi regions for operating illegal pharmacies.
The joint pharmaceutical regulatory in partnership with the National Police service commenced on 10th April 2022 to subdue unlawful pharmaceutical practices in the country.
Kaluai Julius, Head of Inspections, Surveillance and Enforcement said the operation aims to conduct surveillance along the Ethiopia and Somalia borders to combat suspected smuggling of Heath Products and technologies, particularly in Mandera and Moyale border points.
"We are also carrying out stakeholder engagement and sensitization on PPB mandate focusing on the key players within North Eastern region among them Police, Imams, county governments, county assemblies, professional bodies, and the public. The sensitization program further aims at banishing the emerging trend of abuse and misuse of controlled and prescription  medicines especially by Khat users to achieve a "Kabarai impact," Kaluai said.
Besides the surveillance and enforcement of Health Products and Technologies (HPTs) Good Distribution Practices, the Board is conducting an audit of the controlled medicines and prescription medicine documentation in line with the Pharmacy regulations.
"We have noted that most unregulated chemists within North Eastern region operate while disguised as clinics. They are mainly owned and managed by healthcare workers within the county government. Such officers shall be sanctioned through the respective county governments to procure valid practice licenses and to regularize their private practice in line with Good Distribution Practices for pharmaceuticals," Kaluai stated.
On the same breath, Kaluai emphasized that key monitoring and scrutiny is being carried out within Dadaab refugee camp to identify and avert any pharmaceutical malpractices and illegalities within the camp.
The regulatory operation within the two regions is part of the affirmative effort to establish a sustainable regulatory impact within the country. Illegal pharmaceutical practitioners are placed under a statutory notice that the Board shall pursue them.
Kaluai appealed for support from the public, the National Police Service and the National Government administrative organs especially the local chiefs in monitoring and enforcement of closure notices issued.
Further, the Board is seeking partnership with the professional bodies and healthcare workers following numerous adverse drug reactions and suspected poor quality Health Products and Technologies reported within North Eastern Region. The Pharmacovigilance related issues can be reported via regulatory@pharmacyboardkenya.org or pv@pharmacyboardkenya.org
The Board wishes to further retaliate to the residents of North Eastern region that the process of Pharmaceutical Premises Licensing is online. Plans to operationalize the PPB office in Garissa is also underway. Clients can reach the Regional Regulatory Coordinator, Omar Sheikh Alare on  0711584408 at somar@pharmacyboardkenya.org
The public and private healthcare facilities handling pharmaceuticals are also notified to apply online for disposal of any pharmaceutical waste that they may have or get in touch with PPB regional officers. (website: www.pharmacyboardkenya.org)