Health products worth 24 million seized in PPB led operation
Version
Download
File Size

0.00 KB

File Count

0

Create Date

June 24, 2022

Last Updated

June 24, 2022
Health products worth 24 million seized in PPB led operation
Health products worth 24 million seized in PPB led operatio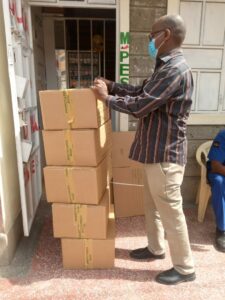 The Pharmacy and Poisons Board (PPB) in partnership with the Kenya Police Service acted
this week to target pharmaceutical outlets that illegally sell Health Products and Technologies
(HPTs) to consumers in South Rift and Nairobi regions.
The operation that commenced on 22 nd May 2022 has seen a complete seizure of at least 140
cartons of assorted HPTs worth 24 million, found in the illegal premises.
The Head of Good Distribution Practices at PPB Julius Kaluai confirmed on Friday in a
statement that 77 persons have been arrested and registered for prosecution in various courts
within South rift and Nairobi regions.
"The seized medicines will be analysed and disposed off as guided through the issued court
orders," Kaluai said.
Some of the charges preferred to those found in violation include; Possession of part I
poisons while not being an authorised seller of poisons contrary to section 26(1)(b) as read
with section 26(2) of the Pharmacy and Poisons Act, Cap. 244 laws of Kenya.
The scope of the operation targeted profiled hotspot counties namely Nakuru Nairobi,
Kericho, Narok, Bomet, Laikipia and Samburu.
The targeted Health Products Technologies distribution outlets included registered chemists,
illegal chemists, medicine hawkers, clinics, herbal medicine stores and cosmetic shops
stocking medicament containing preparations disguised as cosmetics.
Kaluai said the aim of the operation is to audit the documentation of controlled medicines and
prescription medicines in line with the Pharmacy regulations.
He added the Board is also conducting surveillance and enforcement of Health Products and
Technologies (HPTs) Good Distribution Practices as well as enforcement of previously
issued closure notices including execution of warrants of arrest relating to Pharma crimes.
On May 13, a similar crackdown led to the arrest of 72 people and 120 cartons of medicine
confiscated in the Nyanza, North Rift and Nairobi regions.
"Our key concern is the emergence of illegal chemists within target zones owned by qualified
pharmaceutical personnel. There is also a rising trend of medical clinics running illegal
pharmacies that are also manned by unqualified pharmaceutical personnel. Such practitioners
shall be investigated and prosecuted," he stated.
The Pharmacy and Poisons Board is the National Drug Regulatory Authority in the Ministry
of Health, established under the Pharmacy and Poisons Act Cap 244 Laws of Kenya to
regulate the practice of pharmacy and ensure safety, quality and efficacy of Medical Products
and Health Technologies.
The mission of the Board is to protect and promote the health of the public by regulating the
profession of pharmacy and ensuring access to quality, safe, efficacious and affordable health
products and technologies.
Attached Files