Kenya drug regulator unveils new system to report adverse events through Phone – April 13, 2022
Kenya drug regulator, PPB unveils new system to report adverse events through Phone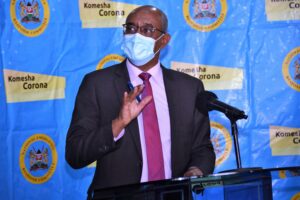 April 13, 2022 –  Pharmacy and Poisons Board (PPB) through support from the USAID Medicines, Technologies & Pharmaceutical Services Program (MTaPS) has developed a mPvERs system, a mobile based solution that provides a reporting platform for the public to report on adverse events following the use of medicines, vaccines and medical devices. In addition, they shall be able to report on poor quality health products and technologies.
This mobile solution which is in form of a mobile application for both android and iOS and an Unstructured Supplementary Service Data (USSD) solution was launched on Wednesday by the Ministry of Health, Chief Administrative Secretary, Dr. Rashid Aman, in a virtual press conference attended by PPB Chief Executive Officer, Dr. F. Siyoi, and Country Project Director MTaPS Program, Dr. Ndinda Kusu among others.
The solution supports the reporting of the adverse events following immunization, adverse drug reactions, suspected poor quality medical products and technologies, medication errors, transfusion reactions, medical devices incidents and public reporting via the USSD.
The solution is developed to supplement the existing national reporting system PvERS II, which was launched in March 2021 to enhance consumer reporting.
"This is another great milestone achieved by the Pharmacy and Poisons Board towards the monitoring of quality, safety and efficacy of health products and technologies in Kenya," Dr Rashid stated and noted that the public is increasingly becoming aware of health-related matters including disease conditions, disease management and adverse events following the use of health products and technologies.
He emphasized that patients are able to provide detailed first-hand information about their experiences with medicines, and how these medicines have affected their life. This includes reports of adverse events for "over the counter" (OTC) medicines, herbal medicines, vaccines and reports on suspected poor quality health products and technologies.
"Consumer reporting is therefore a useful tool in empowering the consumers, and improving their involvement in the management of their own health," Dr. Aman said and assured that the Ministry of Health through Pharmacy and Poisons Board is committed to providing Kenyans with safe, quality and efficacious medical products and health technologies and is looking forward to great outputs from the mPvERS system.
In addition, Dr. Siyoi highlighted that the Pharmacovigilance electronic reporting system will go a long way in strengthening reporting and vigilance on safety quality issues for health products and technologies in Kenya both by healthcare providers and the general public and thanked the MTaPS Program, for their technical and financial support in the development of the mPvERs platform.
The Pharmacovigilance electronic reporting system (PvERS) has been in operation since the year 2013. In order to align with the international standards and cognizant of the expanded scope of pharmacovigilance globally, the PvERS was upgraded to PvERS II in March, 2021 to include reporting of adverse events following immunization, medication errors, transfusion reactions and incidents from medical devices.
"Through the system the PPB has received over 16,000 reports which have been used to inform policy change, review of treatment guidelines and various regulatory actions," the CEO said.
The Pharmacy and Poisons Board is the Regional Centre of Regulatory Excellence (RCORE) in Pharmacovigilance. Therefore, it plays a key role in the African Medicines Regulatory Harmonisation Programme by the African Union Development Agency-NEPAD (AUDA-NEPAD). Other bodies include the East African Community (EAC), and the Intergovernmental Authority on Development (IGAD) medicines regulation harmonization initiatives.