Kenyan authorities crack down on illegal pharmaceutical outlets in Upper Eastern and Central regions, 24 February 2023
Kenyan authorities crack down on illegal pharmaceutical outlets in Upper Eastern and Central regions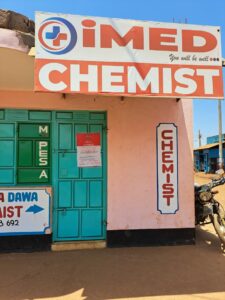 Upper Eastern (Kenya), February 24, 2023 –  Kenya's Pharmacy and Poisons Board, which is responsible for regulating the practice of pharmacy and ensuring the safety, quality, and efficacy of medical products and health technologies, has embarked on a joint investigative and regulatory inspection in the Upper Eastern and Central regions.
The operation aims to investigate, prosecute, and report on illegal pharmaceutical outlets, targeted wholesale pharmaceutical outlets, absentee superintendents, as well as profile, seize and close down illegal pharmaceutical outlets.
As a result of the operation, 30 arrests and prosecutions have been made, and at least 70 boxes of assorted health products and technologies have been seized.
Mr. Julius Kaluai, the Head of Inspectorate and Enforcement at the Pharmacy and Poisons Board, said: "Illegal pharmaceutical outlets are a major threat to public health and safety. We will not rest until we have ensured that only licensed practitioners are involved in the practice of pharmacy, and that all medical products and health technologies sold to the public meet the required safety, quality, and efficacy standards."
The Board has also noted that there are licensed practitioners who leave their practice under the care of unqualified personnel. Such practitioners are being investigated for prosecution and revocation of their licenses, Kaluai said.
To guide the public on indicators of illegal pharmaceutical premises, the Board advises people to verify the registration details of pharmacy practitioners at community pharmacies, hospital pharmacies, and any other drug dispensing facilities. The registration details can be verified through the Board's website at https://practice.pharmacyboardkenya.org/LicenseStatus.
If you suspect any illegal pharmaceutical outlet or unqualified personnel, please report them via info@pharmacyboardkenya.org., he advised. "The Board remains committed to ensuring the highest standards of quality, safe, and efficacious medicines in Kenya, and urges the public to work with them to keep communities safe and healthy."