Regulator warns public against self- medication – November 24, 2022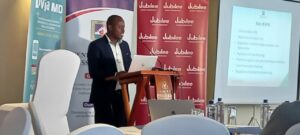 November 24, 2022 – The Pharmacy and Poisons Board is warning Kenyans against engaging in self-medication and maintain the culture of purchasing medicines as prescribed by licensed healthcare professionals to avoid falling prey to antimicrobial resistance which is a threat to public health globally.
The Regulator warns that self-medication with antibiotics can lead to drug related problems which include drug- emergence of antimicrobial resistance, drug overdose, drug misuse, poor treatment outcomes  and even death especially in cases of wrong diagnosis which leads to wrong treatment.
Dr. Karim Wanga who is the Head of Post Marketing Surveillance and the antimicrobial resistance (AMR) focal point at the Pharmacy and Poisons Board advised the public against self-medication and access to antimicrobials over the counter while addressing participants in Nairobi during the Kenya Medical Association (KMA) symposium to mark the World Antimicrobial Awareness Week.
"The general public, health care providers and healthcare facilities have a role to play in ensuring appropriate use of medicines including antimicrobial agents.This can help reduce emergence or spread of antimicrobial resistance," Dr. Wanga advised.
The medic observed that although antimicrobials have saved millions of lives over the years, the over-use, misuse in human health, animal health, crop sector, aquaculture and inappropriate disposal of antimicrobials in the environment is driving  antimicrobial resistance (AMR).
Dr. Wanga further noted that effective antimicrobials are needed for both preventive and curative healthcare, adding that when used appropriately, antimicrobials could protect patients from potentially fatal infections and improve patient outcomes in complex procedures such as surgery and in the administration of chemotherapy in immune-compromised individuals.
He pointed out that the drivers of AMR include indiscriminate use, misuse and overuse of antimicrobials in humans, animals, crop sectors and aquaculture.
Other factors, the Medic noted are poor disposal practices and presence of antimicrobials in the environment, water bodies and water streams.
He further observed that although Kenya has developed and published several guidance documents on prevention and containment of AMR, these guidelines have not been effectively utilized.
"As the Pharmacy and Poisons Board, we have developed new rules on disposal of pharmaceutical waste to ensure public safety with regard to handling and disposal of pharmaceutical waste to prevent hazardous outcomes," he stated.
Dr. Wanga further observed that the health and economic impact of AMR is enormous adding that the annual deaths from drug-resistant infections are projected to increase from the current 700,000 to 10 million globally by 2050 if nothing is done to intervene on the containment of AMR.
The global economic cost of AMR is also projected to increase to 100 trillion US Dollars by 2050.
"The major concern is the emergence and spread of multi-drug resistant bacteria, where it seems we are running out of treatment options," he added and advised that greater attention should be paid to emerging resistance to antimicrobials used for treatment for HIV, TB and Malaria.
"All is not lost in the fight against AMR. We can do something to prevent emergence of new resistance or prevention and or slowdown of the spread of existing resistance," he said.
Dr. Wanga re-emphasized that patients and public should only use antibiotics when prescribed by duly qualified and licensed healthcare professionals and they should always take the full course of antimicrobial prescriptions even when they feel better, and never to use left-over antimicrobials.
Patients and the public are also advised not to share antimicrobials with others including friends and relatives, avoid self-medication, and over the counter use of antimicrobials, and they should also prevent infections by implementing effective hand washing and hygiene practices, avoid unnecessary contact with sick people and ensure up to date vaccinations.
He also noted that healthcare workers can also contribute to containment of AMR through prevention of infections by ensuring hand washing, cleaning of instruments and the environment in the healthcare facilities.
"Health workers should keep the clients' vaccinations up to date, stop dispensing antimicrobials without prescriptions, utilize laboratory testing before prescribing of antimicrobials, and only prescribe and dispense antibiotics when they are truly needed." he advised.
Ends…