𝐂𝐚𝐛𝐢𝐧𝐞𝐭 𝐀𝐩𝐩𝐫𝐨𝐯𝐞𝐬 𝐊𝐞𝐧𝐲𝐚 𝐇𝐞𝐚𝐥𝐭𝐡 𝐏𝐫𝐨𝐣𝐞𝐜𝐭 𝐭𝐨 𝐅𝐨𝐫𝐭𝐢𝐟𝐲 𝐋𝐨𝐜𝐚𝐥 𝐇𝐞𝐚𝐥𝐭𝐡 𝐒𝐲𝐬𝐭𝐞𝐦𝐬 – 9th October 2023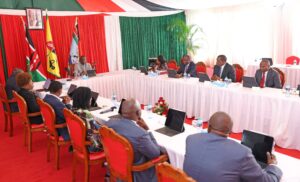 Kisumu, Kenya  – The Cabinet has granted approval for the Kenya Health Emergency Preparedness, Response, and Resilience Project, a pioneering initiative aimed at strengthening local health systems and advancing Universal Health Coverage (UHC).
In collaboration with the World Bank, this transformative project comprises several key components:
 I. Establishing in-country capacity for 'fill-and-finish' production of human vaccines at the Kenya BioVax Institute.
II. Empowering and enhancing regulatory capabilities within the Pharmacy and Poisons Board.
III. Augmenting the Quality Control and Assurance capacity at the National Quality Control Laboratory.
IV. Reinforcing the capabilities of the National Public Health Institute.
V. Promoting human resources capacity, learning, development, and technology transfer in bio-manufacturing.
 This multifaceted program is poised to champion the 'one health' approach, emphasizing local production, research, and innovation as integral components of elevating the social determinants of health in Kenya.
 In harmony with this comprehensive approach, Cabinet has issued a directive to the Kenya Medical Supplies Authority (KEMSA), emphasizing the prioritization of locally manufactured pharmaceutical products over imports.
This directive aligns with the core principles of the Buy Kenya Build Kenya initiative, a cornerstone of the Bottom-Up Economic Transformation Agenda (BETA).