Kenyans to access better pharmacy services as PPB/PSK embraces joint self-regulation framework – August 25, 2022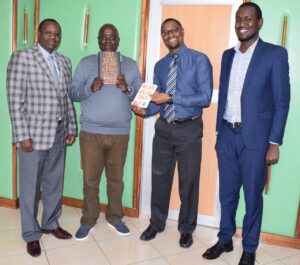 August 25, 2022 – The Pharmacy and Poisons Board (PPB) will collaborate with the Pharmaceutical Society of Kenya (PSK) to develop a self-regulation framework to promote Good Pharmacy Practices in the country.
The CEO of the Pharmacy and Poisons Board Dr. Fred Siyoi revealed that the signing of a Memorandum of Understanding (MoU) between the PPB and the PSK is in the offing to deepen the co-operation between the two entities in order to ensure that pharmacists take full responsibility of upholding ethics and professionalism in the practice of pharmacy in the country.
Speaking in his office during a courtesy call by PSK officials, Dr. Siyoi commended the PSK for reaching out to the Government in its quest to embrace self- regulation which will minimize malpractices in the pharmaceutical sector and protect the public from quacks.
The CEO noted that the MoU is intended to provide a framework to assist the joint working of the two organizations in order to support each other's role and functions.
"The collaboration will not only benefit the profession but also the health sector and the people of Kenya at large by ensuring the highest quality of pharmacy care and the appropriate use of medicines and health products,'' said Dr. Siyoi when he met PSK Chief Executive Officer, Dr. Lucas Nyabero and Board member Dr. Thuo Kamau.
Dr. Nyabero said self-regulation of the profession of pharmacists is necessary to maintain ethical standards of practice and regulation of their activities to ensure they contribute to the appropriate use of medicines.
"There is need to support each other to ensure the patients are using medicines appropriately. The Pharmacy and Poisons Board is giving us a lot of support on this to ensure professionalism is highly observed in the pharmaceutical sector," Dr. Nyabero said.
He observed that the self-regulation framework and the Green Cross are some of the strategies the PSK has advanced in order to ensure that patients are provided with high quality pharmaceutical care country-wide.
Dr. Thuo Kamau also disclosed that the PSK is working on a pharmacy benefits management scheme which will enable pharmacies with a Green Cross to dispatch medicines to patients and be reimbursed by the NHIF.
"It is widely accepted that our population's health needs will continue to change and place greater demand on existing health services,'' Dr Siyoi said, adding that the PPB works in the public interest to protect and promote the health, safety and well-being of patients and the public, by regulating the pharmacy profession besides ensuring access to quality, safe, efficacious and affordable health products and technologies.
"We need a healthy population to contribute to our economic growth and in particular the county's Vision 2030," said Dr. Siyoi.