Kenya seeks to manufacture own COVID-19 vaccines – July 26, 2022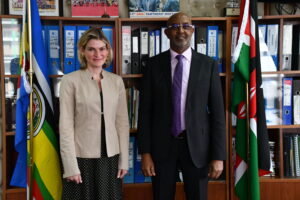 July 26, 2022 – Plans are underway to kick-start local manufacturing of the COVID-19 vaccines in Kenya, Health Chief Administrative Secretary Dr. Rashid Aman has said.
He said a new pharmaceutical policy, whose works are in the pipeline, is set to streamline the manufacturing sector as well as create an enabling environment that supports vaccine production.
"We are looking at the pharmaceutical policy to address regulatory challenges that face our manufacturing sector", said the Chief Administrative Secretary.
Dr. Aman was speaking today at his Afya house office in Nairobi while holding talks with the Global Health and Manufacturing Services Senior Vice President Dr. Emily Kaine.
The Chief Administrative Secretary implored on the Global Health and Manufacturing Services to partner with the government, reiterating that the vaccine programme calls for a multi-sectoral approach.
On behalf of the Global Health and Manufacturing Services, Dr. Kaine pledged to support the Health Ministry to realize its goal.
Also present at the event were Senior Technical Advisor Regulatory Systems Strengthening Dr. Edward Abwao, Africa Regional Lead-Partnerships and Growth Ngemera Mwemezi as well as  PQM + Program Regional Director East and Southern Africa Evans Sagwa.
The discussions also centered on strategic partnership and support areas under the PQM Plus project funded by USAID.