The USP Senior Vice President pays a courtesy call on the CEO, PPB – July 26, 2022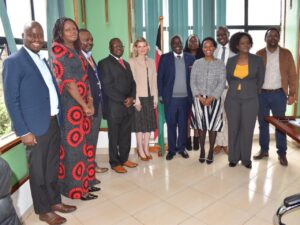 July 26, 2022 – The Senior Vice President, Global Health & Manufacturing Services at the United States Pharmacopoeia (USP) Dr. Emily M. Kaine today paid a courtesy call on the Pharmacy and Poisons Board (PPB) Chief Exective Officer, Dr. F. M. Siyoi.
Dr. Emily who was accompanied by the USP/PQM+ Director, Eastern and Southern Africa Dr. Evans Sagwa among other representatives reiterated USP's commitment to support Global health in particular strengthening regulatory system and local manufacturing including regional harmonization initiatives.
The meeting also discussed areas of continued improvement especially on medical devices regulation, post marketing surveillance activities, and promotion of local manufacturing of vaccines among others.
In his remarks, PPB CEO expressed his gratitude to the United States Pharmacopoeia (USP/PQM+) for their continued support which has helped PPB strengthen its regulatory systems.