Pharmaceutical technologist play a significant role in provision of pharmaceutical care services – July 21, 2022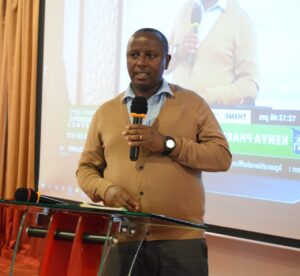 July 21, 2022 – Pharmaceutical technologist are tremendously accessible and should play a big in educating the public on self medication.
Speaking during the 18th Annual Scientific Conference for the Kenya Pharmaceutical Association, Head of Central Region at the Pharmacy and Poisons Board (PPB), Dr. Tom Kauki urged the practitioners to use their grassroot reach to educate members of the public on dangers of self-medication which he argued has become rampant.
"Pharmaceutical technologists are among the most accessible healthcare providers and are among the best trained to help patients use their medicines," he said.
Dr. Kauki who represented the PPB CEO, Dr. F. M. Siyoi noted that medicines have become a very important and powerful tool now more than ever in improving the health status of populations and in the long term reducing healthcare costs.
He disclosed that the Board has established systems that have increased efficiency in business processes to facilitate pharmaceutical technologists in ensuring access to medicines and their appropriate use, improve adherence, and coordinate care transitions among others.
He noted that to enhance service delivery the Cabinet Secretary recently inaugurated a new board of directors. The Board has also gazetted new Pharmacy and Poisons Rules 2022, and has continued to decentralize its services in to order reach all stakeholders' with new offices opened in Kisii, Kitale, Kiambu and Murang'a.
This year's conference theme is "Emerging trends in healthcare".