PB developing guidelines for pharmaceutical sales representatives in Kenya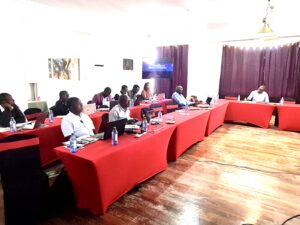 Nairobi, Kenya – March 27, 2023 – As the pharmaceutical industry continues to grow in Kenya, it is crucial to establish guidelines that govern the qualifications, standards of practice and activities of sales pharmaceutical representatives.
The Pharmacy and Poisons Board (PPB) is in the process of developing clear guidelines to ensure that pharmaceutical sales representatives are qualified to perform their tasks and act ethically in promoting medicines and other health products and technologies to healthcare professionals.
The Pharmacy and Poisons Board is committed in its mission to ensure the promotion of medicines in Kenya is done within the legal framework and that the information shared with healthcare workers remains factual, evidence based and not misleading. To this end, PPB revised the "Guideline for Advertisement and Promotion of Health Products and Technologies" in the year 2022 to align it with the current best practices. The new "Guidelines for Pharmaceutical Sales Representatives in Kenya" aim to define the role of pharmaceutical representatives in promoting health products and technologies and ensure optimal outcomes for consumers/patients.
Speaking about the development of the new guidelines, the Director Pharmacy Practice, Dr. Wilfred Ochieng, emphasized the importance of ensuring that pharmaceutical sales representatives have the necessary knowledge, skills, experience and adhere to ethical standards to promote safe and effective use of health products and technologies.
The PPB is calling on stakeholders in the pharmaceutical industry to participate in the development of these guidelines to ensure that they are comprehensive and effective in regulating the activities of pharmaceutical sales representatives.
The new guidelines are expected to be finalized soon and will provide a framework for the training, recruitment and regulation of pharmaceutical sales representatives in Kenya, ultimately enhancing consumer confidence in the pharmaceutical industry.