CAS Health urges pharmacists to embrace innovation -June 2, 2022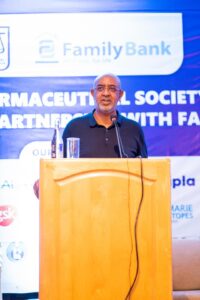 CAS Health urges pharmacists to embrace innovation 
June 2, 2022  – There's need for collective efforts and innovative interventions to address the quality, cost and availability of health products.
Addressing the 42nd Pharmaceutical Society of Kenya Annual Scientific Conference under the theme "Disruptive advances in pharmacy for improved Healthcare" the Chief Administrative Secretary (CAS) in the Ministry of Health, Dr. Rashid Aman said the pharmaceutical care services are much needed now than ever.
"Having been shown to make the difference in the mortality and morbidity as well as contribution to the cost of healthcare, pharmaceutical services not only save patients' lives, but also improve patients' quality of life and influence expenses" he said.
The CAS noted that the Pharmacists' contribution to Universal Health Coverage (UHC) is exceptional, at each level of practice and everyone must feel the responsibility that is ahead of us.
"Innovation is going to drive our responsiveness moving forward and we must not only aim at equipping a critical mass of health care providers with knowledge and skills to offer services in line with UHC but also the provision of this care that embraces disruption, innovation, and upgrading of our current modes of delivering healthcare," he stressed.
The CAS commended the Pharmaceutical Society of Kenya for embarking on several projects to support innovations that will disrupt the status quo and make healthcare provision better, adding that appropriate technologies and data collection measures are necessary to make monitoring of patient safety, care, and support compliance easier.
"A comprehensive history of the patient's profile, including aspects of medication history, drug interactions and adverse events can be recorded, and such data used to the benefit of the patient," he added.
Dr. Rashid acknowledged the pharmacists' for being the key members of the healthcare team and the major role they play on a daily basis in providing care. "This care is often free and the impact is neither documented nor recognized. Pharmacy processes have been less than robust as majority of pharmacies may not be keeping comprehensive patient service records," he noted.
He noted that majority of pharmacists do not have a functional dispensing software nor technologies that are necessary to keep patients' records straight and safe for decision making or make them available for other caregivers.
The Safety of these patients is in the hands of the pharmacist, and l am challenging the pharmacist to be more effective, efficient and promote safety innovatively providing commendable care to patients but also observed that this also remains undocumented and unknown.
Dr. Aman also commended the MoH /JHPiego/PSK collaboration to design, develop and deploy a Pharmacy Reporting System which will collect data on the provision of advanced family planning offered by both pharmacists and pharmaceutical technologists. "It is our desire that this is scaled up and replicated in all other areas of pharmacy service delivery," he said.
He noted that to provide better care, specialization will be a key part of upskilling. "We are aware that the currently available specializations are limited. We are working closely with the regulator, PPB and PSK to expand the specialization to include the other clinical and non-clinical expertise like communication, management, and supply chain to name a few," Dr. Rashid said.
He observed that specialization will develop highly trained pharmacists that will expand the provider services pool for the benefit of patients towards achievement of UHC.
He said the Ministry of Health is keen on strengthening governance for HPT both at the national and the county levels. "In the last two years, we have supported county governments in several critical aspects such as the national forecasting of HPT needs and establishment of governance structures just to mention a few," he said.
The goal is to elevate HPT governance structures to a level of authority and responsibility that supports effective oversight for health products especially at a Directorate level and this is an area we continue to pursue. "We are also keen on working with the manufacturing sub-sector to grow the local industries for manufacturing HPT. COVID-19 has taught many that a level of self-reliance is critical and indeed, UHC implementation calls for this if at all we have to meet our HPT needs sustainably" he said.
Dr. Rashid disclosed that the Kenya Drug Act and the Pharmacy Practice Bill will define services that a pharmacist must have in the advancement of UHC. These are areas that we are they pursuing under the policy, he added and noted that the Pharmacy Practitioner's Bill/Act will endeavor to make pharmacist's cognitive services an Essential Health Benefit.
The Act will provide a framework solid enough to support pharmacists as they serve the general public by recognizing their contribution. "We are also cognizant of the KNPP 2012 that is due for review to align with UHC and the devolved context and look forward to working closely with you to ensure that these policies address the emerging needs in the pharmacy profession towards better service delivery for the population. We must commit to provide highly skilled manpower, fund innovations and support requisite infrastructures so that these innovations can be moved from the bench to the bedside and be useful for the patients. Indeed, it is the right health policies that will create strong foundations for medical innovation," he added.
Speaking at the same event, the Pharmacy and Poisons board CEO, Dr. F. M. Siyoi challenged the PSK members to consider specialization in order to meet the marker requirements which has become dynamic.
He thanked the Pharmacists for their support and asked those in academia to consider adding innovative approaches in the field to help tackle diseases such as NCDs which is overtaking others diseases.
Dr. Rashid also reiterated the Health Ministry's commitment to the achievement of Universal Health Coverage (UHC) under the Big 4 agenda, the Constitution of Kenya 2010, the government's development blue print – Vision 2030, and the health policies among them the Kenya Health Policy and UHC Policy, the Kenya Health Sector Strategic Plan and the Kenya Health financing Strategy.