PPB CEO encourages pharmaceutical innovation to meet the changing needs of patients – June 2, 2022
PPB CEO encourages pharmaceutical innovation to meet the changing needs of patients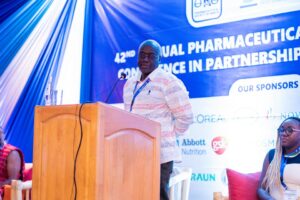 Pharmacists have been challenged to invest in Research and Development (R&D) of new
medicines.
The Pharmacy and Poisons Board Chief Executive Officer, Dr. Fred Siyoi says innovation and
specialization is required in the profession to provide more services to the public.
He says COVID-19 pandemic has created an opportunity for pharmacists to deliver more hands-
on care and for the profession to redefine its role.
Addressing pharmacists during their annual conference organized by the Pharmaceutical Society
of Kenya (PSK) on June 2, 2022, CEO advised the professionals to shift focus in other areas like
R&D, artificial intelligence, cyber security, continuous professional development, pharmacy
practice and academia among others to provide more service in order to meet the changing
needs of patients.
"Pharmacy profession has expanded significantly in terms of professional services delivery and
now has been recognized as an important profession in the multidisciplinary provision of health
care," he stated and advised the pharmacists to change their mindset and acquire more
knowledge, skills and tools to meet the changing needs of patients.
"Right now we have a new paradigm shift. We now have pharmacists offering immunization,
which means more people are being reached with the service.
The Pharmacists have also been trained to offer family planning commodities we are looking for
new areas for pharmacists to offer more services at the community level. This will assist in
prevention and achievement of universal health coverage, he added.
The CEO noted added the changing role of the pharmacist from dispensing to community service
has not only been influenced by the outbreak of covid-19 but also borrowing best practices from
other countries.
"With over 4000 pharmacists and 11,400 pharmaceutical technologists practicing all over the
country, the professionals can easily supplement or extend the services of primary care providers
in chronic condition management, prevention and wellness," he advised.
The Board he added has advanced regulations and policies to ensure the professions operate
within law.
"We are working with multi-agencies, and we are bringing in counties to enforce the standards.
We are also encouraging self-regulation through PSK," he noted.
The Pharmacy profession has evolved from its conventional and traditional drug focused basis to
an advanced patient focused basis over the years.
This advancement in the role of pharmacist calls for them to be the part of the broader health
care team working for providing better health care for the patients, thus contributing in achieving
the global social development goals.
In 2019, the pharmaceutical industry devoted $83 billion to R&D expenditures. Those
expenditures covered a variety of activities, including discovering and testing new drugs,
developing incremental innovations such as product extensions, and clinical testing for safety-
monitoring or marketing purposes. That amount is about 10 times what the industry spent per
year in the 1980s, after adjusting for the effects of inflation.