PPB holds workshop to sensitize members of Enquires and Disciplinary Committee (EDC) – 28th November 2022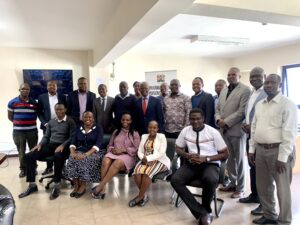 28th November 2022 – A sensitization workshop on the mandate of the Pharmacy & Poisons Board (PPB) Enquires and Disciplinary Committee (EDC) was held on Monday 28h November 2022 in Nakuru County.
The Chairman of PPB, Dr. Rogers Atebe, CEO Dr. F.Siyoi, EDC Chair Ms Miriam Ndirangu, and representatives from PSK, and KPA among others attended the event.
Dr Atebe emphasized the need for self regulation and urged the pharmaceutical professionals to stop supplying drugs to quacks. He called upon the EDC to deal with professionals abetting the illegal practice.
He also urged the PSK and KPA to partner with the Council of Governors, Counties, and regional economic blocks to ensure that no quack is employed within public hospitals.
The Board CEO, Dr. Siyoi also noted that self-regulation of the pharmaceutical industry is key to set standards towards promoting patient safety. He said an MOU will be signed with PSK and KPA to strengthen self-regulation.