PPB hosts experts to improve access to quality medicines and combat Antimicrobial Resistance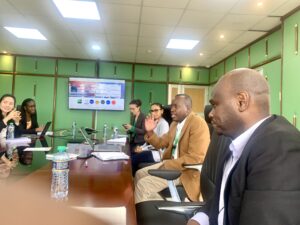 Nairobi, Kenya, April 14, 2023 – The Pharmacy and Poisons Board (PPB) on Friday hosted a delegation of experts from the ABACUS II study to discuss progress in medicine quality and antimicrobial resistance research.
The meeting was attended by experts from around the world, including Dr Celine Caillet from Oxford University, Ida Johnson from the Food and Drugs Authority of Ghana, Assma Gafur Omargy from the National Medicines Regulatory Authority of Mozambique, Mohammed Fakrhul Islam from Directorate General of Drug Administration (DGDA) of Bangladesh, Noudy Sengxeu from Mahosot Hospital- Wellcome Trust Research Unit in Laos and the Mission for Essential Drugs (MEDS) team- Dr Stephen Kigera, Dr Joseph Muriu, and Mildred Wanyama.
The primary focus of the meeting was on improving access to antibiotics and ensuring their appropriate use, as well as sharing good practices for pharmaceutical quality control laboratories and discussing opportunities for future collaboration.
Representing the PPB team were Dr Obadiah Naikuni, Director for laboratory services, and Dr Karim Wanga, head of post-marketing surveillance and focal point for antimicrobial resistance. The PPB team expressed their interest in exploring handheld technologies for screening the quality of medicines, which could be particularly useful in low-resource settings.
By bringing together experts in the field and exploring new technologies, the PPB aims to improve public health outcomes and combat antimicrobial resistance. The collaboration with the ABACUS II study is an important step towards ensuring that everyone has access to quality medicines.