Strengthening regulatory oversight of medicines in Kenya: PPB's meeting with US Health Attaché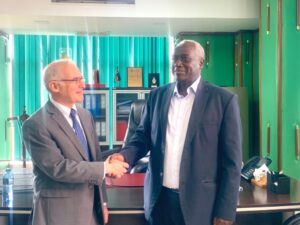 Nairobi, Kenya, April 13, 2023 – Today, the Chief Executive Officer of the Pharmacy and Poisons Board (PPB), Dr. Fred Siyoi, hosted Peter Mamacos, the Health Attaché ad interim of the Embassy of the United States of America in Kenya, for a courtesy call.
During the meeting, Dr. Siyoi and Mr. Mamacos discussed ways to strengthen the PPB as it strives to attain WHO maturity level 3. This critical milestone will enhance the regulatory oversight of medicines and healthcare products in Kenya, ensuring that they are of high quality and safe for use by the public.
The CEO expressed gratitude for the support the PPB has received from the United States, especially through USAID's hiring of staff, which has significantly helped the PPB. "The Board is committed to working closely with the United States and other partners to achieve this goal and improve the health of the Kenyan people," Dr. Siyoi said.