PPB organizes key stakeholder workshop to update pharmacy curriculum in Kenya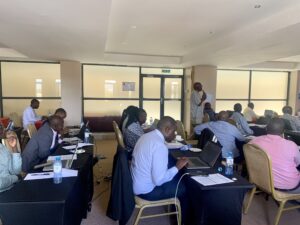 Machakos, Kenya, April 3, 2023 – The Pharmacy and Poisons Board (PPB) has organized a three-day Key Stakeholder Sensitization Workshop in Machakos, aimed at updating schools of pharmacy on the latest standards and guidelines for pre-service education and training of pharmacists.
The workshop's objective is to ensure that schools of pharmacy provide a skills-oriented and competency-based learning approach to meet the country's overall health needs and national development goals, the Director of Pharmacy Practice, Dr. Wilfred Ochieng said.
The workshop comes at a time when the role of pharmacists in healthcare has evolved, and the need to review and align the competencies required to meet current and future demands in the pharmacy practice environment has become more apparent.
Through this workshop, the PPB seeks to ensure that the new core curricula for pharmacy align with the evolving healthcare needs and national development goals of the country, ultimately improving the quality of healthcare services and contributing to the achievement of UHC and the Sustainable Development Goals.