Revolutionizing Pharmaceutical Manufacturing for Affordable Healthcare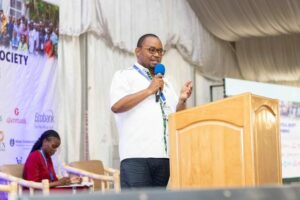 Diani, Kenya May 25, 2023 – In a resounding declaration, Dr. Charles Githinji, Chairman of the Pharmacy and Poisons Board, has passionately called for immediate action to strengthen local pharmaceutical manufacturing. With an unwavering focus on ensuring affordable healthcare for all Kenyans, Dr. Githinji underscored the pivotal role of domestic production in providing accessible and cost-effective medicines. Transforming Kenya into a dynamic regional pharmaceutical hub emerged as the key solution to meet escalating demand and outpace the competition.
At the 43rd Pharmaceutical Society of Kenya Scientific Conference held last week, professionals and stakeholders convened to tackle pressing challenges head-on and forge collaborative solutions. Dr. Githinji's compelling address shone a spotlight on the paramount need to bolster local pharmaceutical manufacturing, a vital step towards securing the nation's healthcare future.
Highlighting the urgency of the situation, Dr. Githinji emphasized the critical role of robust regulatory oversight within the industry. The Pharmacy and Poisons Board, unwavering in its commitment to safeguarding the safety, efficacy, and quality of pharmaceutical products, vowed to uphold stringent international standards. This unwavering dedication not only reinforces public confidence but also ensures the well-being of the entire population.
Furthermore, Dr. Githinji addressed the ongoing debates surrounding the pharmacy curriculum, recognizing the need for a comprehensive and relevant education system. Adapting the curriculum to keep pace with the dynamic healthcare landscape emerged as a priority. By fostering open dialogue and leveraging professional insights, the Pharmacy and Poisons Board aims to equip future pharmacists with the skills and knowledge necessary to meet the evolving healthcare needs of the nation.
The 43rd Pharmaceutical Society of Kenya Scientific Conference provided an indispensable platform for industry stakeholders to confront significant challenges and collaboratively develop practical solutions. Engaging discussions, knowledge sharing, and networking opportunities abounded, fostering an environment of cooperation and paving the way for a vibrant and sustainable pharmaceutical sector in Kenya.
As Kenya intensifies efforts to enhance its healthcare system, the outcomes and insights from this landmark conference are poised to shape policies, drive innovation, and ensure the availability of high-quality healthcare for all Kenyans.
Dr. Fred Siyoi, Chief Executive Officer of the Pharmacy and Poisons Board, passionately urged pharmacists to actively participate in the policymaking process. Their invaluable expertise will shape policies that acknowledge and appreciate the significant value pharmacists bring to the healthcare landscape.
During his address at the 43rd Annual Scientific Conference for the Pharmaceutical Society of Kenya, Dr. Siyoi emphasized the indispensable nature of staying abreast of industry trends, healthcare advancements, and leadership principles. By doing so, pharmacists can actively contribute to driving positive change within the healthcare sector.
Dr. Siyoi stressed the paramount importance of adhering to regulations and guidelines that uphold ethical standards and prioritize patient safety in decision-making. By maintaining the highest ethical standards, pharmacists can ensure that healthcare practices are conducted with utmost professionalism and accountability.
Aligning with the government's vision of promoting local manufacturing, Dr. Siyoi passionately called upon conference delegates to strictly adhere to good manufacturing practices. This resounding call aims to minimize manufacturing errors and ensure the production of high-quality pharmaceutical products.
Dr. Siyoi's remarks serve as a testament to the indispensable role that pharmacists play in healthcare and the imperative for their active involvement in shaping policies that recognize their immense value. Through their engagement in policymaking, pharmacists can contribute their expertise to forge an efficient, safe, and patient-centric healthcare system.
The 43rd Annual Scientific Conference stands as an unparalleled platform for pharmaceutical professionals to exchange knowledge, and share best practices.